Vacation Fishing Resort in the Brainerd Lakes, MN Area
Pine Terrace is an excellent fishing resort located in the Brainerd Lakes area in Minnesota. Located in Crosslake, Pine Terrace has a chain of lakes available to their vacation customers that gives them exciting bass, crappie, walleye, northern pike, and bluegill fishing. Located on beautiful Star Lake, this resort offers great fishing in a peaceful setting.
Star Lake – Your Personal Fishing Lake in Minnesota
What is fishing Star Lake like? Two word describe Star Lake: quiet and secluded. Star Lake has only one lake access – Pine Terrace Resort. Most of Star Lake is undeveloped and has a natural unspoiled shore. Star Lake is spring fed and one of the cleanest lakes in the area with a water clarity rating of 19 feet. In 2012 the DNR reports the median transparency across the 63 lakes with data was 10.01 feet; Star Lake was number 3 on the list at 19.36 feet.
Unlike many larger or shallow lakes, Star Lake is deep, narrow, and well protected from the any wind. Guaranteeing time on the lake on your lake vacation, you can fish your entire stay because of this protection from the wind. You will not have to worry about racing back to the resort if the winds come up.
Star Lake is part of the Ossawinnamakee chain of lakes in the Brainerd lakes area. While staying at Pine Terrace Resort you can fish Star Lake, Little Star Lake, Round, Little Bass and Bass Lakes. Although access to Round, Little Bass and Bass Lake is limited to shallow or 16 ft or smaller boats, adventure abounds at our Minnesota resort.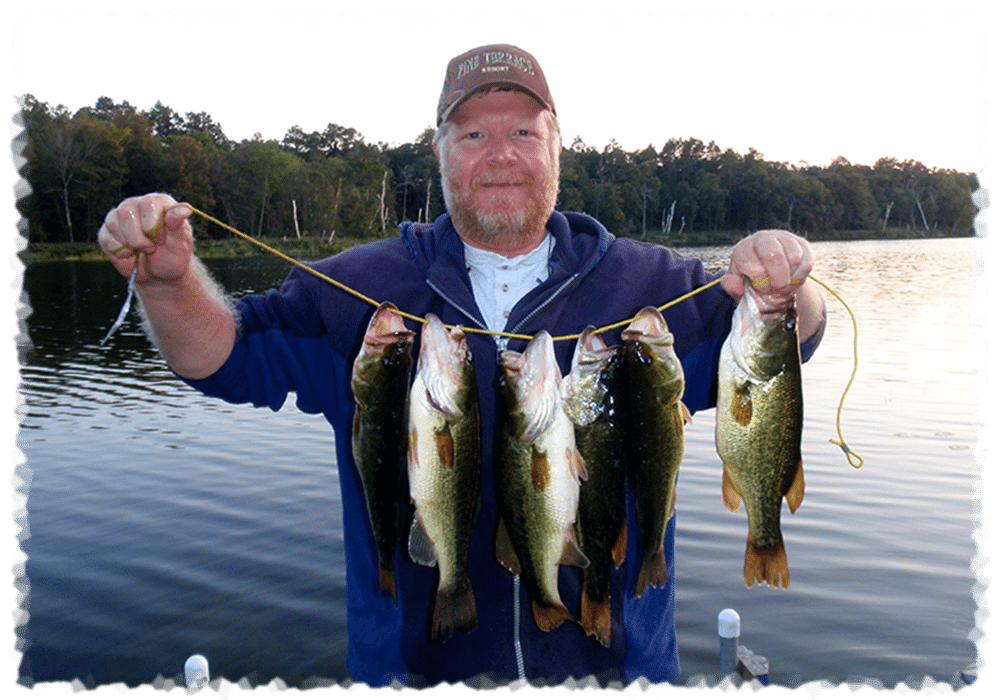 Largemouth Bass fishing on Star Lake can be fast and full of action. Lilly pads surround Star Lake bays. Whether you like top water or throwing plastic worms Star Lake will capture you heart. Spring fishing is again the time to take advantage of the Bass's ferocious desire to attack that lure. Black plastic worms being the choice of many, all will have fun with a worm and bobber. Stay out in the deep water and cast up in to the shallows, bouncing the plastic worm off the break will result in that hit you long for. We have seen good Bass action through August with the right presentation.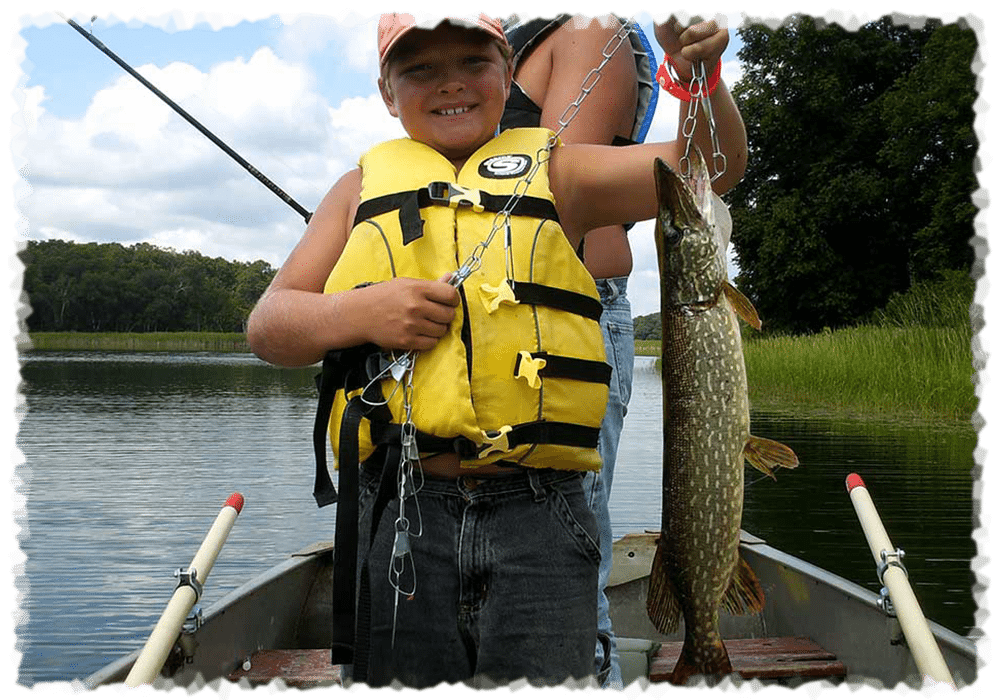 Star Lake is a good Northern Pike lake. Guest have continued to catch good numbers of nice size Pike. Because Star Lake is a deep lake, maximum depth of 83 feet, this allows cool deep water for the Pike to thrive. Guests enjoy catching Pike right off the docks throughout the year. Throw out a sucker on a bobber and sit back and relax. May through June are the best time to catch Northern Pike on Star Lake. Even though spring has the best fishing for Pike, some guests have enjoyed catching over 50 Northern trolling in late August.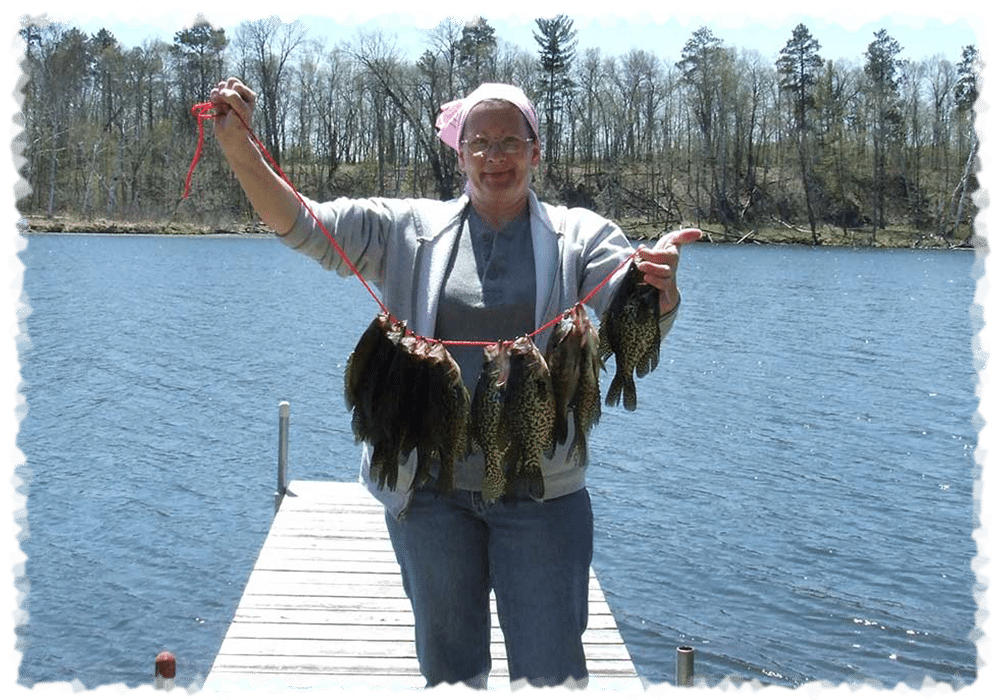 Star Lake and the Chain have a Crappie throughout. If Crappies are the fish of choice for you, then spring is the time to be at Pine Terrace Resort. Fishing in the shallow areas will provide you with the action you desire. Find those shallow beds and enjoy that spring Crappie fishing you desire.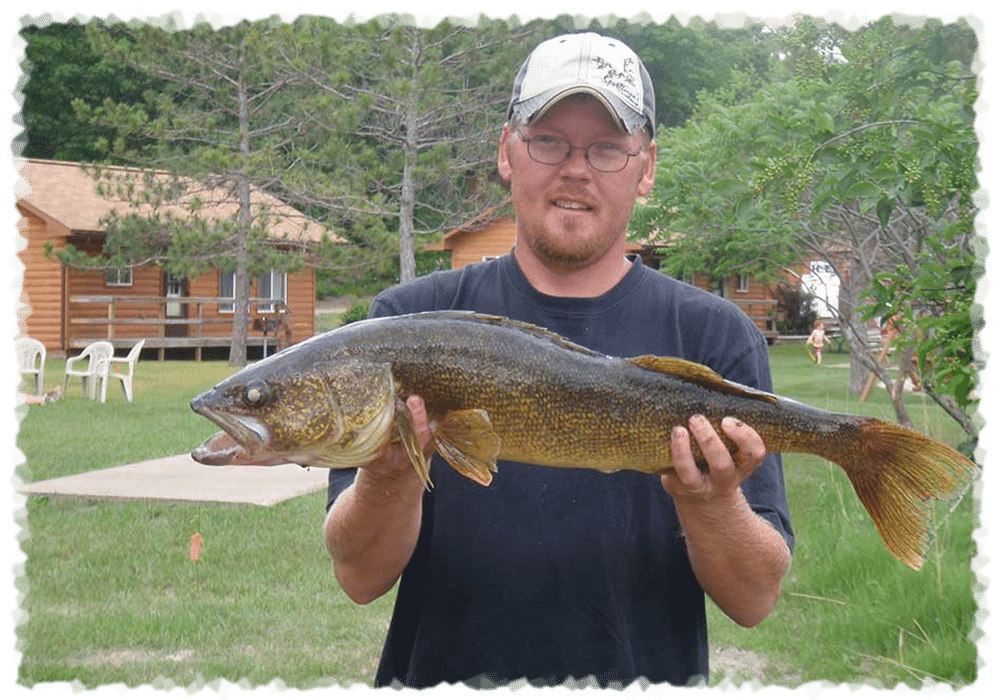 Although Star Lake has Walleyes, due to the very clear water and limited spawning area walleye are an elusive catch. When Walleyes are caught they are almost always a keeper.
Dock fishing at Pine Terrace is always fun for the kids and is almost never without screams of delight.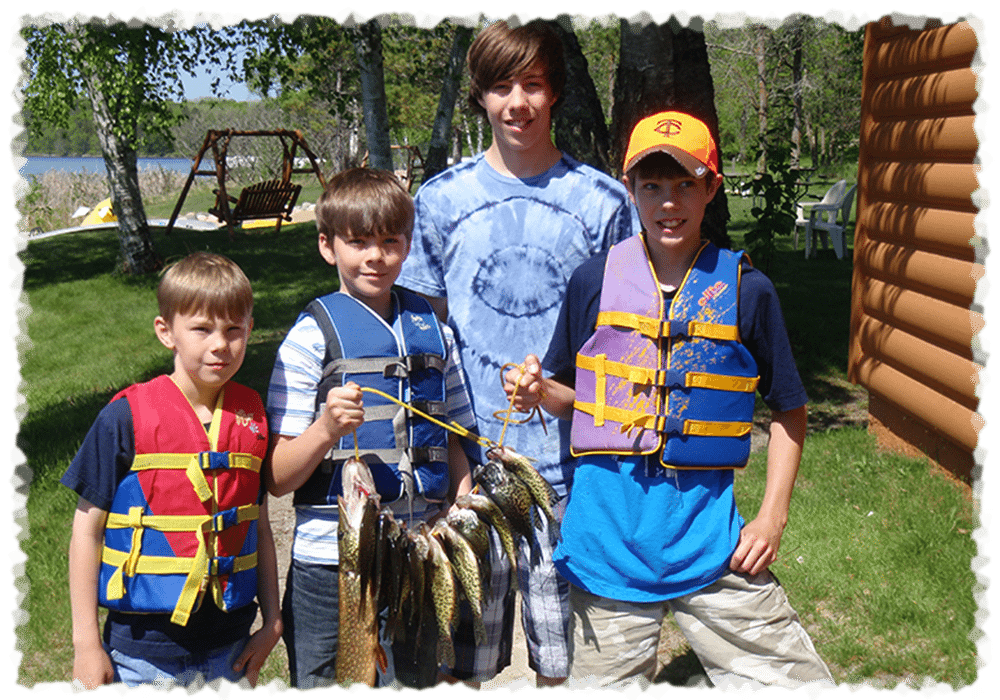 Bluegill and Hybrid Sunfish
Pan fish have captured the heart of young and old alike. Here at Pine Terrace Resort there is not a shortage of Pan fish either. At each dock throughout the year you can find someone enjoying the "one after another" reward of pan fishing. In the spring you will find them on the beds in the shallows, using your bait of choice will result in a smile and memories that will keep you fishing for a lifetime. Spring is the time to catch those larger fish before they head out deeper for the summer.
Little Beaver lake is 14 acres and just upstream from Star Lake. It is short walk from Pine Terrace where we keep 2 row boats, free for your use. This lake offers a "Golden Pond Experience". Little beaver lake is a great spring Crappie Lake and regularly produces 5 lbs Northern Pike. Little Beaver also has Largemouth Bass and abundant Pan Fish. Many guests stay and only fish Little Beaver.
Henry Lake is another unique experience offered at Pine Terrace Resort. Located across the bay and secluded in the forest. Henry Lake is 15 – 20 acres and is a hidden gem that can offer large Northern Pike fishing due to its secluded attributes. Due to the adventure and hike to get there, it is not for all to explore, but can produce great rewards. Take a couple of hours to experience the quiet awaiting you as you are the only ones on the lake. A Pine Terrace rowboat awaits you on the shore. It also has good Largemouth Bass and Pan fishing.
Enjoy cleaning your day's catch in Pine Terrace Resort's clean fish cleaning facilities. Located right next to the lake for your convenience.